When making a decision, go for the Best!
Choose The Best Pre Wedding Photographer In Udaipur
When Cupid shoots an arrow directly to your heart, savor the moment, capture the emotions, and freeze the moment for a lifetime of memories.
Because the photographer's lens zooms up just on the bride and groom, pre wedding images are always exceptionally spectacular. Nothing but your love story is depicted in the photographs! Toss your insecurities to the wind and be who you are! Cherish the moment while also having a good time! Try out some wild stances or spend some quality time with your partner. 
Our pre wedding photography in Udaipur, Rajasthan, allows you to unwind and stop fretting for the umpteenth time about the wedding preparations. It allows you to relax, feel refreshed, and perhaps pinch yourself to realize that your wedding, the moment you've been waiting for is only a few steps away.
Pre Wedding photography in Udaipur nowadays requires a lot beyond just smiles and poses. Unlike in the past, photographers are developing new and creative techniques to build a stunning wedding album. If you decide to have pre wedding photography in Udaipur prior to your wedding, you should have a good idea of who is your pre wedding photographer in Udaipur.
As a result, you may entirely relax in front of the camera and be yourself the entire time. It may aid your photographer in determining your ideal perspectives and settings for stunning wedding day images. Pre wedding photography may also be used as a photographic practice session to help you plan for your big day. As a result, pre wedding photography in Udaipur will allow you to see how skilled your photographer is at capturing moments.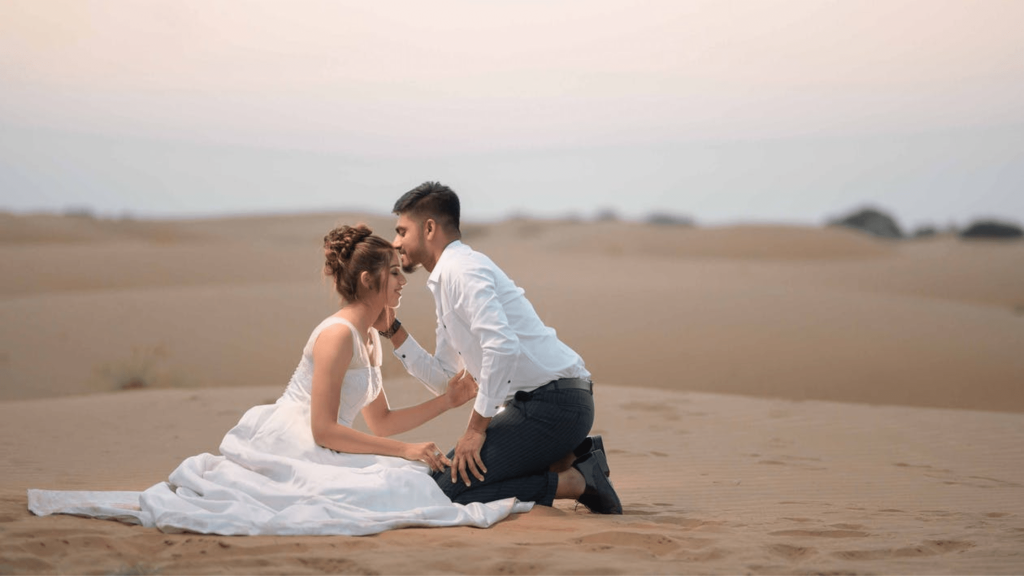 Best Pre Wedding Photography In Udaipur
Pre wedding photography is a picture shoot that occurs before the wedding day. Despite the fact that pre wedding shootings have become a must for most couples, many are still questioning whether or not they must have one. Some couples say it is a waste of time and money that does nothing. In that situation, they may be mistaken.
The best pre wedding photography in Udaipur Rajasthan might benefit you in a variety of ways. For starters, it helps you establish a solid connection with your photographer, which is especially important if you're having your wedding day photographed by the same person.
You'll feel more at ease with your photographer and have a better understanding of his or her photography approach. It's also a good moment for your photographer to learn more about you as a couple: your personalities, how loving you are with one other, and how formal or informal your preferences are. This allows them to design appropriate settings for your pre wedding photo and wedding day that will complement both of you.
What Characteristics Distinguish A Superb Pre Wedding Photography?
There are several factors that might contribute to the best pre wedding photography in Udaipur. The magnificence of an engagement album for Terralogical is dependent on two factors. The first is if the photos can portray the couple's tale, and the second is how the lens captures emotions. "Pictures must convey information about the subject, such as who they are, how they got started, or where they plan to go as a pair. If the two are hikers, a hilly backdrop might be ideal for the photo session." Above all, the caught emotions are what give the photographs their charm.
Concepts in Pre Wedding Photography In Udaipur
Many imaginative couples and photographers have emerged with a plethora of pre wedding ideas; so many, in fact, that you'll definitely have problems deciding which one is right for you. Don't worry; we at WedClick will walk you through five of the most popular ideas that will work best while providing the best pre wedding photographer in Udaipur.
The Traditional/Coventional
The conventional thought comes first. The traditional notion is delving into the roots of your cultural background and displaying such cultural components in your photographs. This design is ideal for individuals who are planning a conventional wedding reception. Indonesian brides have an edge since the country's cultural variety is wide and vibrant, resulting in stunning photographs.
If you want to keep things traditional, choose a site that reflects the ancient feelings of the culture you've selected. Stick to conventional garb when it comes to apparel, but make it basic and pleasant. Keep the finer points until your wedding day. Request black-and-white or sepia-toned photos from your best photographer for pre wedding photography in Udaipur to give the photos a more realistic vibe.
WedClick's pre wedding photography in Udaipur states that choosing glamour implies wearing fancy outfits and visiting great locales; in other words, displaying as much class as possible in your photos. Couples that choose to do this type of picture shoot are likely to value elegance and refinement above all else.
Find stunning outfits that will make an impact in the photos, whether in traditional black-and-white or bold hues; the option is yours. It would be ideal if you could photograph at a famous monument or somewhere with stunning scenery as the backdrop. For the most luxurious effect, show off your lovely setting and your stunning gown.
The casual notion is the polar opposite of the glitzy. Unlike the glamorous, which flaunts expensive gowns and exotic destinations, the casual tone it down and takes a more humble approach. For their informal picture shoots, couples have adopted a variety of themes: some recreate their first encounter, while others highlight their interests and even what they did during their first date.
Casual clothes are always a smart choice for this notion, depending on the motif you pick. Just keep in mind that this is a casual shoot, so don't overdo it with the poses. You can also consult with your pre wedding photographer in Udaipur for a better suggestion.
The indigenous is a notion that has just recently gained popularity. It's almost as if you're getting your photo shot openly while going about your daily routine. Take this couple for example: they wanted to go with the picnic theme, so they had a real lunch and left the photography to the photographer. If you're the sort of couple who doesn't want to pose for pictures, this is the perfect alternative for you. Allow the magic to unfold by being natural and effortless.
However, you must be cautious when selecting the best pre wedding photographer in Udaipur because not all photographers are skilled at capturing candid moments.
A themed pre wedding shoot is one in which you and your partner decide on a certain topic together. You may go with a theme that creates a broad mood, such as bohemian or vintage, or something more particular, such as the Roaring Twenties or a travel theme.
Let your pre wedding photographer in Udaipur know about it, and make smart adjustments to the location and outfit to fit the theme you've selected. For example, if you choose a western theme, have the event on a ranch with you and your partner dressed in folk-style garb. If you're going for a retro look, pick an antique location and dress appropriately for the occasion.
Some Do's and Don'ts of a Pre Wedding Photoshoot
Pre wedding shoots are rarely as straightforward and smooth as they appear. There are a few things you should think about and pay attention to before the filming begins. To help you prepare for the perfect session, thoroughly review these dos and don'ts.
Do: Your research
Don't: Try a whole different appearance.
Do: Make a detailed strategy for your concept.
Don't: Forget to consider your partner's desires.
Do: Schedule the shoot at a convenient time.
Don't: Be fooled by simplistic health and beauty tips.
Do: Arrive on time and prepared
Top Places For Pre Wedding Photography In Udaipur
This is the most important thing you should consider as a couple. Choosing one of the top places for pre wedding shoot in Udaipur can be a boon for an everlasting memory. The location plays a crucial role in imprinting the beautiful moments in memory for the whole life. So, what are you waiting for? If you are a couple who is going to marry in near future, then it is the time to hire the best pre wedding photography in Udaipur.