A lovely wedding custom that has been followed for generations is the haldi ceremony. Prior to getting married, couples commemorate this auspicious occasion to purify their bodies and souls. This happy ritual is performed the day before the wedding. With the passage of time, this age-old ritual has developed into a joyous occasion. All of the family gathers for this exciting occasion to celebrate the wedding of the pair.
Haldi photography is stunning because of the colorful Haldi setting, fun-filled moments, and yellow-painted faces. To make a beautiful wedding tale by capturing the feelings on camera, you can search for the top haldi ceremony photographers in Udaipur. A skilled photographer may quickly catch the couple's connection, the guests' happiness, and both joyful and sorrowful emotions. But to get some interesting and humorous pictures of this colorful ceremony, a decent Haldi stance is essential.
Are you getting married soon and want to create a wedding album filled with lovely feelings? Then you could try these bridal haldi positions. Continue reading to learn more about the ideal Haldi picture poses.
Cutest Haldi Ceremony Poses 
The romantic pose:  The bride and groom sit or stand close with their arms around each other & both look at each other with joyful expressions on their faces.
Create a family pyramid: By having the bride and groom stand at the bottom layer, followed by their parents and siblings. Everyone is sure to like this lively and exciting position.
Bowl brigade: Gather your family members in a row, each carrying a bowl of Haldi paste, and form the "bowl brigade." Afterward, the bride and groom can proceed through the line while being covered in the sanctified paste. This lighthearted position is sure to make everyone smile and laugh a lot.
Flower shower: Family members should assemble around the bride and groom while holding bouquets of flowers for the flower shower. Everyone may throw petals at the pair as they smile for the camera, making for a lovely and enchanting scene.
Family dance party: Host a family dance party to get everyone up and moving. Everyone else may follow the bride and groom's lead and join in on the fun. The playful and spirited atmosphere of the Haldi ceremony is captured in this photo.
Organize a DIY photo booth: With backgrounds, decorations, and other accessories, and have your family members take turns posing for amusing and ridiculous pictures. This is a wonderful opportunity to bond with your family and have a lot of fun.
Blessing with haldi hands: The bride's face is first covered in haldi as part of the holy custom. The Haldi process is well embodied in this lovely haldi stance. Beautiful photographs of the Haldi ceremony are created by the applied Haldi hands around the bride.
Generations: Take a beautiful family portrait with each generation by gathering them all together. This position is a wonderful way to remember and cherish the heritage and customs of your family.
Haldi war: Play a game of "Haldi war" with your family to get into the fun mood of the Haldi ceremony. Have a friendly fight while laughing and having fun, arming yourselves with handfuls of haldi paste.
Love seat: Place the bride and groom in the center of their loved ones on a sofa or love seat. This posture perfectly expresses the tight bonds between your family as well as the love and affection of the Haldi ceremony.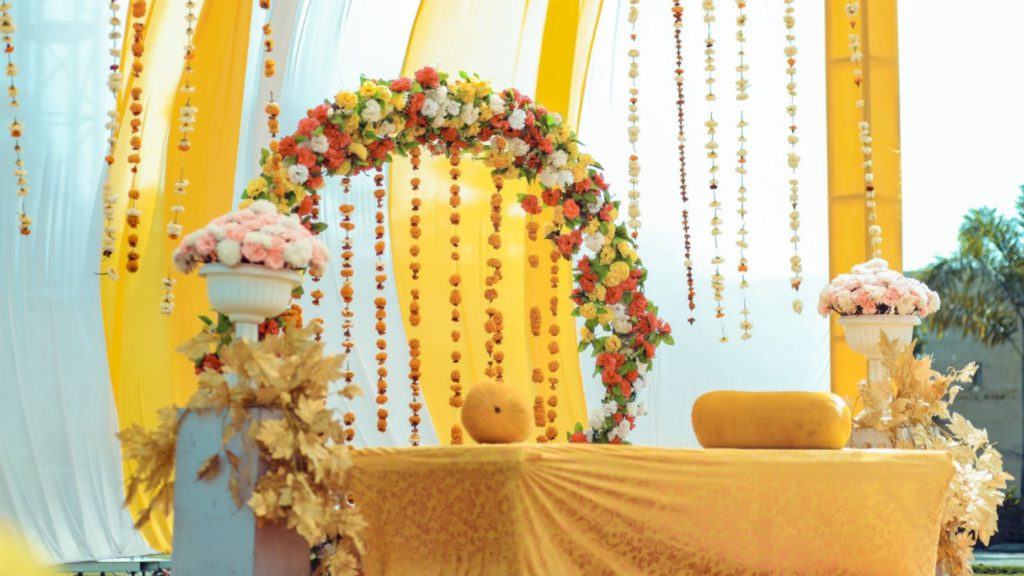 The most crucial thing is to enjoy yourself and create enduring memories with your family at the Haldi ceremony, regardless of the posture you select. So assemble everyone in one place and prepare to pose for the Best Haldi & Mehandi Photography!
A lively event's essence may be captured, leaving you with some priceless and enjoyable memories. Your bridal portraits might be given a unique twist with skilled haldi function photography in Udaipur by WedClick. In order to acquire the ideal wedding book, you must search for some original haldi poses. Here is a selection of the most attractive and elegant haldi postures for brides that are deserving of stealing the show.
Follow us on Instagram – @wedclickofficial
Book Now And Capture The Joy And Beauty Of Your Haldi Ceremony With Our Professional Photography Services!