Your D-Day brings so many emotions and feelings altogether. Amidst several preparations and warbling sounds from all corners of the house, it feels like a dream that finally the day has arrived when you would unite in a strong bond with your soulmate. However, years later, when you look back, you should have a souvenir of the moments of your wedding. That's why you must find the best wedding photographer to capture your wedding.
Udaipur is one of the pristine locations where every year, many wedding events take place. The city's rich heritage and marvelous forts call for many couples to plan their destination wedding at a site that gives them a royal feel for the rest of their lives. Now, at this one moment, it becomes even more essential to get hold of a wedding photographer who does justice to your precious moments that you would cherish for a lifetime.
A photographer is one of the primary people on your momentous day. He captures and makes time stand still in a photo book that you will reminisce with your partner for days when you are growing old together. All the fun moments, the bonding, the liveliness of the relationship, and an aura of love and adoration would get enclosed in an album, and it should indeed look splendid.
Amongst other arrangements and following your wedding checklist, discovering the best wedding photographer would be a blessing in disguise. However, you must not feel overwhelmed and simply follow specific details to make your job much more accessible and scout for a gem of a person that captures your world of happiness through their lens.
Why Do You Need To Think of Hiring a Professional Photographer?
Many families or couples feel that hiring a professional photographer should not be part of ceremonies before the big day since it is all family and close friends. They would rely on their relatives, friends, and cousins to do that through their phone cameras. But that's where you might go all wrong.
Even though new-age couples getting married understand the necessity to have a professional eye to catch glimpses of their precious moments during small ceremonies. Some lack the knowledge about the plausibility of a professional photographer on events like Sangeet night, Haldi, Mehendi, etc. The real moments of fun, laughter, and togetherness become easy to capture when celebrating your pre-wedding ceremonies.
Your tear-jerking moment with your mom, your mischievous 'Naik-obtaining' strategy talks with your cousin, or your grandmother lovingly caressing your head during Haldi or Mehendi; all of these memories are priceless, and wedding photography in Udaipur will secure the details and bring out a bevy of stills to treasure.
How To Find The Best Wedding Photographer?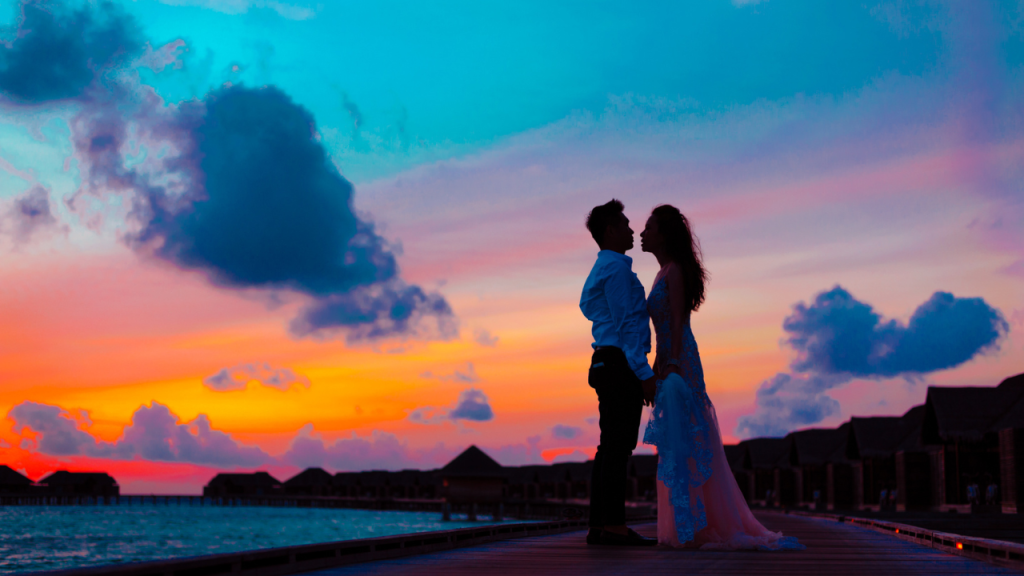 With more and more trends in photography, plenty of couples prefer to plan a pre-wedding shoot that either turns into a movie or just stills to showcase on the invitation cards, wedding venue, etc. That's why there is a prerequisite for the best pre-wedding photographer.
Moreover, to make your pre-wedding photoshoot look royal, a professional eye that understands your requirement is a must. To find that artistic lens, you should be careful and wary about certain things. After all, it is not just about capturing a pre-wedding shoot; it's giving you memorable snaps to browse for longevity.
Explore The Experience of The Photographer
Today social media would offer you plenty of options to choose from. Whether you want to hire the best pre-wedding photographer or a professional photographer for your wedding, social media has a plethora of professionals for you.
When you browse through the snaps of popular wedding photographers on their social media, you will get a peek at their previous experiences and the quality of the pictures. Hence, it would provide an edge over which photographer would suit your ideas and expectations and which ones to cross from the list. You can always go back to recommendations from your married friends or cousins whose wedding pictures left you captivating. This way, your choice becomes quick and precise.
Convey Your Expectation To Your Photographer
Even if you find the best wedding photographer, they would not be able to act on your whims and expectations until you have clear communication with each other. The magic of their lens can only be showcased on the snaps when you convey the professional whether you are looking for more candid wedding photography or just the traditional memories captured to relish.
At times, couples require their photographer to capture candid moments while they are planning a pre-wedding photoshoot. You must discuss the frames, angles, and locations where you would like most pictures taken.
You would want to convey to them the faces of the very close people with whom you would wish to imagine. Let them know if you have a picture planned with your bridesmaids. Let them know how many shots you want them to capture while you are getting ready, or take that first shot after you are ready and come out of your room.
Ask Your Photographer's Opinion
Building a good rapport with your photographer and asking for their opinions would always enhance and perfect your images. They are professionals and would have an eye for detail and perfection. Even if you have a theme and setting in your mind, you should let your photographer give you more ideas because they would help you find that perfect shot, which would be better than your imagination. If you are open to ideas and in conversation with your photographer, they can take natural images. They would help you weave a story through the pictures of your wedding day.
Take Care of Cost, Time Slots, and Delivery
You can either have a fixed budget to choose a good professional photographer or be open-ended to find different options and their services to compare them later. Either way is straightforward with your expectation. The price of each wedding photographer would vary depending on your need, so you cannot expect them to charge, say, X for your needs if they asked the same at your cousin or friend's marriage.
Have a clear timeline set for your photographer. Let them know when and where you want them. Should they be present at the bridegroom's entry together or capture it separately? Be sure to convey your dates beforehand. Ask them whether they require advance payment to block the dates you mentioned so that there remains no confusion at the later stage.
Make sure both parties are aware of the terms of the refund and delivery policy. Discuss the time frame with your photographer on which they would begin sending you the snapshots from your wedding day and other ceremonies.
Your wedding day should be the one-perfect fairytale moment of your lifetime, so instead of experimenting, be thorough with your needs and discover the best wedding photographer. Contact Wedclick for your wedding & pre-wedding shoot.