Best Wedding Gardens in Udaipur
Planning to book a wedding garden for your D-Day? Some of the best wedding gardens in Udaipur provide gorgeous backdrops for couples to exchange vows. These wedding garden serves as a stunning outdoor location where couples may spend their big day amidst the beauty of nature. These gardens are frequently painstakingly manicured and created to produce a romantic and captivating ambiance. Here are a few well-known wedding venues renowned for their allure and appeal:
1. Swagat Vatika
If you want to have your ceremonies in an ample space venue, Swagat Vatika, one of the best wedding gardens In Udaipur​, is the perfect setting. They can comfortably accommodate and host an average of 1,000 persons at the event. They have a beautiful dining hall to give you as their event space at the site, which is in a prominent position that is accessible. You may hold your ceremonies outside, and they can set up attractive tents as well.
2. Ghoomar Garden
Ghoomar Garden is a versatile location with a lawn and a banquet hall, both of which can hold 500 people in the dining hall and over 1200 visitors simultaneously in the outdoor area. This marriage garden in Udaipur is the ideal setting for holding any type of pre- or post-wedding festivities in great comfort and success. It is the perfect location to exchange vows in the tranquility of a setting with a distinguished atmosphere. They like providing excellent generosity and friendly services to all of their customers.
3. Field Club
The Field Club in Udaipur is a wonderful location to exchange vows with your soul mate. The location is the perfect setting to conduct a lavish Indian wedding and celebration. This best marriage garden in Udaipur offers a variety of venues for events that may accommodate small to big gatherings. The Field Club Panchwati in Udaipur, Rajasthan, features a sizable lawn for hosting events under the stars. The well-kept, beautiful green lawn with trees around provides the ideal setting. In contrast, the location includes a banquet space that can accommodate small gatherings without any problems if you want to have an intimate party indoors.
4.Govardhan Vatika (Sec-14)
One of the best marriage lawns in Udaipur is Govardhan Vatika. The venue's expansive grass space is perfect for hosting pre-wedding events like mehndi, haldi, or sangeet ceremonies. A reception party, engagement party, or wedding ceremony might all be held outside. The restaurant, which offers some of the greatest Indian food in the nation, will create a special menu only for the wedding. If you want to celebrate after the wedding festivities, hire a DJ as well.
5. Maan Bagh (Sec-13)
Maan Garh, Udaipur, is a favorite among the wealthy and is the ideal location for a lavish Rajasthani wedding. It includes an expansive lawn and a sizable banquet hall that can accommodate all of your extended family members. Apart from weddings, you may also organize engagement and reception ceremonies here, making it one of the best wedding gardens in Udaipur. It is located at Hiran Magri Sector 13, and there is a parking lot there to provide space for your VIP guests' vehicles.
6. Ashish Vatika (Sec-11)
A wide lawn and a roomy banquet hall are available at Ashish Vatika, Hiran Magri, Udaipur to greet your visitors. On this property, there is a parking area to provide shade for the VIP guests' cars. It is well-liked not just by locals but also by visitors from far locations who want to have their Rajasthani fantasy wedding there! Amazing cuisine is served at this prominent marriage garden in Udaipur, Aashish Vatika is created by in-house caterers. The expert décor crew ensures that the venue looks stunning on D-Day.
7. Arihant Vatika
The luxurious Arihant Vatika in Udaipur is a beautiful location to hold your wedding and celebration. It includes a large lawn and a banquet hall so you may welcome your friends there. It is easy for everyone to go there because it is situated on 100 Feet Road inside the confines of Prem Nagar. Everyone feels at home in the venue because of its welcoming atmosphere. You are free to select your preferred caterer in Arihant Vatika, Shobhagpura, who can provide mouthwatering dishes with vegetarian options. Additionally, it enables you to hire a designer of your choice to customize the venue's decor to meet your needs.
8. Occasion Garden
The Occasion, a Wedding Garden in Udaipur is the ideal wedding location for couples searching for a low-key but lovely setting to exchange vows. This location is ideal for people who think that destination weddings involve more than simply lavish castles by lakes and "short-sharable." For numerous pre-wedding and other wedding festivities, the venue's extensive garden space may be used excellently. The location is conveniently situated for the comfort of the guests who fly in to attend your wedding next to a train station and across from a renowned hotel.
9. Shubh Kesar Garden
The elegant wedding venue Shubh Kesar in Udaipur is located in the lovely "City of Lakes." It offers a sizable dining hall and a large lawn where you may greet your guests. You might decide to work with a designer of your choosing to attempt and customize Shubh Kesar Garden Shobhagpura Udaipur to your tastes. Similar to that, you might decide to employ outside caterers to wow your guests with delectable vegetarian entrées and sweets. On 100 Feet Road, Shubh Kesar in Shobhagpura, Udaipur, is ideally situated. This location has a sizable parking area that can accommodate all of your guests' cars.
10. Silver Garden
Silver Garden in Shobhagpura is renowned as one of the best wedding gardens in Udaipur. This well-established establishment caters to both locals and visitors from various parts of Udaipur, Rajasthan, serving as a comprehensive destination for all wedding needs. Over the years, this business has achieved remarkable growth and has firmly established itself in its industry. With a continuously expanding client base, Silver Garden exemplifies its unwavering commitment to prioritizing customer satisfaction alongside its exceptional goods and services. The dedicated team at this establishment consistently strives to achieve the organization's broader goals and shared vision.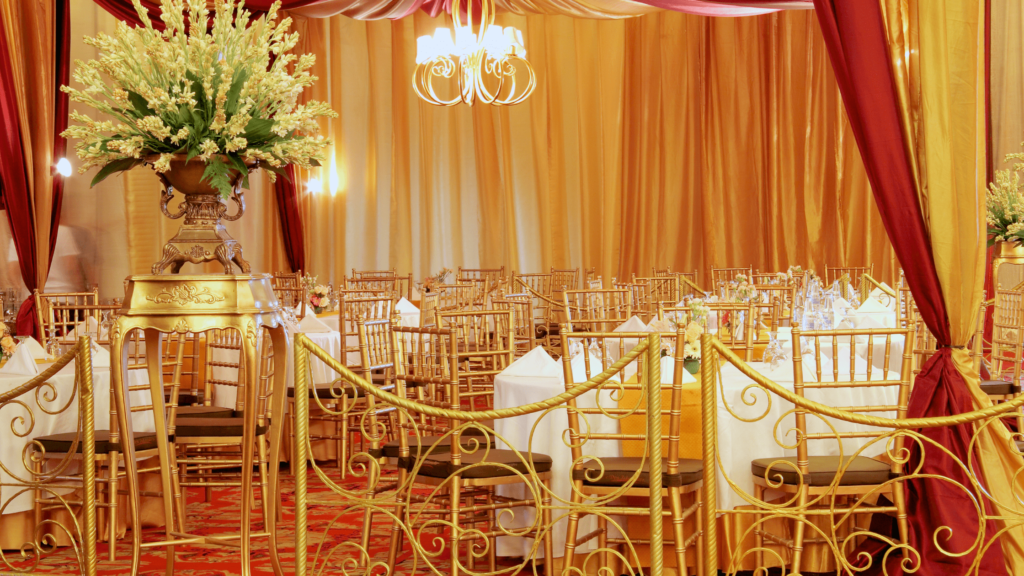 11. Rani Village Garden
An exquisite location and one of the best wedding gardens in Udaipur is Rani Village. The setting has a certain charm that will undoubtedly captivate your attention with its interior design and architecture. Modern yet infused with simplicity and refinement, the ambiance exudes a unique style. Additionally, they offer 8 rooms as part of the rental package; however, the actual rental price may vary depending on the customer's specific requirements. The team at Rani Village is comprised of diligent individuals dedicated to fulfilling their clients' needs.
Escape To An Intense Haven. Experiencing Wedding Grounds' Charm. Book Your Ideal Wedding At Any Of The Best Wedding Gardens in Udaipur!