Lavish Wedding Destination - The Venice of the East
If you are looking for a dream wedding in a city encircled by beautiful lakes and sparkling lights. Wedding venues in Udaipur can offer a once-in-a-lifetime opportunity, exchanging wedding vows in front of the grandeur of a royal palace.
For the celebrities' regal wedding the tape focuses on the City of Lakes.
Many famous people and celebrities from India and around the world had preferred Udaipur as their luxurious retreat to commemorate their weddings in a lavish style because of its comfortable environment and jaw-dropping beauty.
With its elaborate flower decorations, expansive gardens, and balconies with gorgeous views of the city lights and lakes, Udaipur is a wonderful location for a graceful wedding. Continue reading to find out top places for wedding in Udaipur:
Here Is A Collection Of Some Royal & Majestic Wedding Venues In Udaipur
The Oberoi Udaivilas is one of the best wedding venues in Udaipur, for your lavish & indelible wedding memories, if you want your invitees to experience true Indian royalty then Udaivilas is the best wedding venue in Udaipur. Your guests will remember your wedding at Udaivilas for a lifetime due to its splendour.
The Leela Palace Udaipur is renowned for its breathtaking settings, timeless architecture, and other attributes that enable you to plan magnificent wedding receptions that will be remembered for a lifetime. Additionally, it enables you to have your dream wedding in expansive spaces that are adapted to your requirements; its dining halls have a maximum capacity of 200 seated guests and an additional 10 standing visitors outside. Your dream wedding in Udaipur will therefore be meticulously planned to the smallest detail.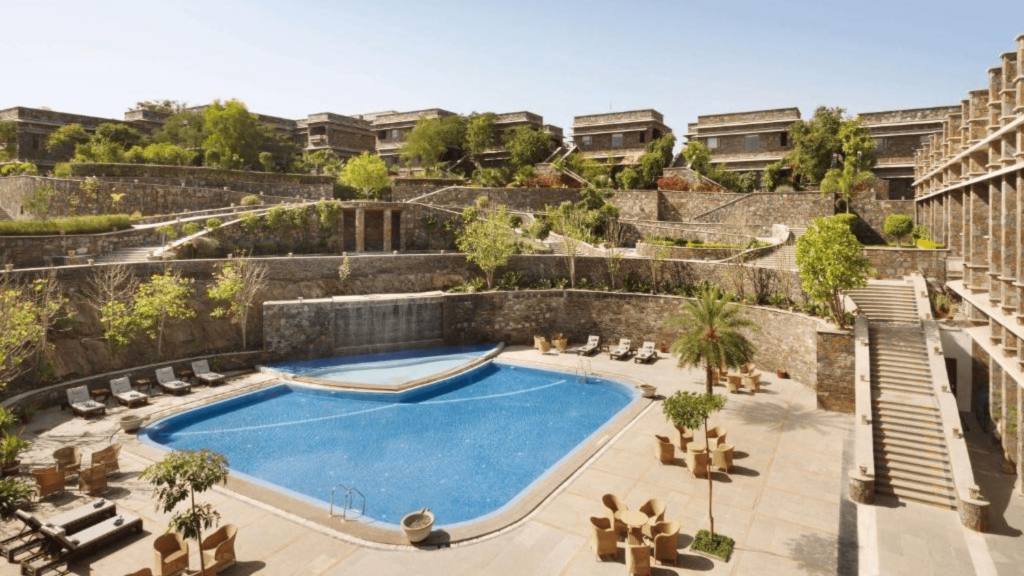 The Hotel Ramada Udaipur should be your choice if you want to get married in regal style. The architecture is predominantly Mewar-related, and it is created in a serene, palatial setting with a variety of gardens using traditional stones. The method of construction is what distinguishes this hotel.
Three lawns at various heights surround the center courtyard, which is surrounded by all four types of guest rooms. This is done to take advantage of the breathtaking views of the city, the renowned Lake Pichola, and the Sajjan-garh fort (popularly known as Monsoon Palace). The goal of the resort is to preserve as much of the natural beauty of the surroundings as possible. It's a resort where you may spend your vacation in the middle of luxury and the splendour of nature, surrounded by the Aravalli mountains.
4. Taj Fateh Prakash Palace
The Fateh Prakash Palace is a stunning location to host your wedding events for it is contemporary with an allusion of complexity and urbanity, the ambiance style. The environment has a certain mood that will absolutely draw your observation to its architecture and interior design.
Numerous prizes for the finest hotel in the heritage category have been given to this 400-year-old historical property. An alluring wedding venue in Udaipur, Fateh Prakash Palace will leave you wanting more. Solely worth the wedding venue are the services, employees, and level of hospitality they provide, and the staff exceptionally systematic, and their main focus is customer satisfaction.
5. Lalit Laxmi Vilas Palace
The Lalit Laxmi Vilas Palace Udaipur is a five-star luxury hotel in Udaipur that bustles with activity. It serves as a hub for conversation among visitors and a jumping-off point for exploring the city while the event is being planned. They offer you all the amenities and services you need so you can simply relax, take it easy, and enjoy the performance. Weddings, business gatherings, social events, and any other type of event are all catered for by them.
They offer first-rate hospitality services, which are essential for organizing an event. They can comfortably accommodate their guests in 55 rooms in total. The contemporary conveniences make sure that your wedding events go off without a hitch. The contemporary conveniences make sure that your wedding events go off without a hitch. So do offer them the chance to make your wedding day unique and unforgettable for all time.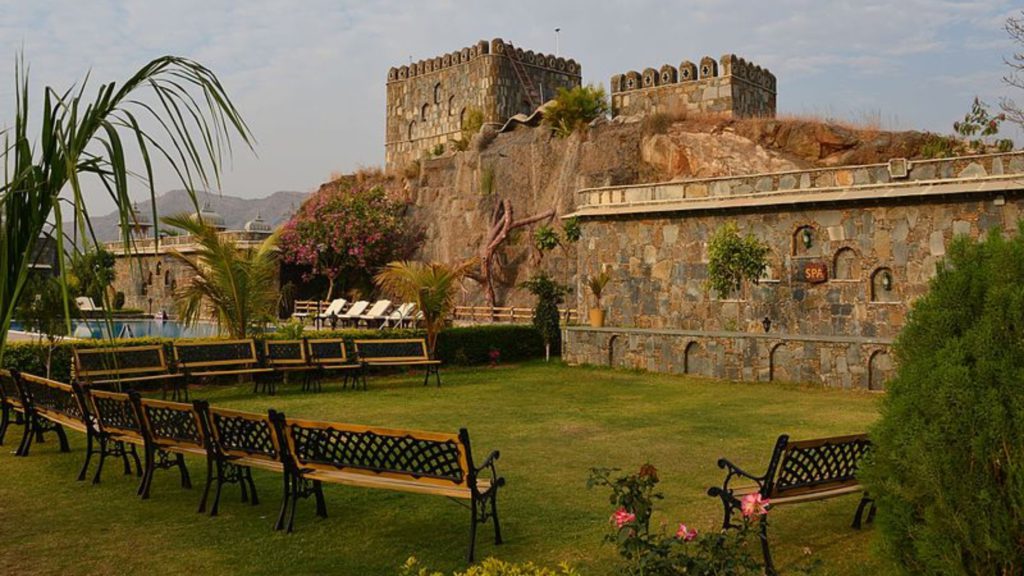 The wedding is the most significant event in everyone's life, and there must be extensive planning done to ensure that this lovely day is one to remember. But selecting and finalising your wedding site is the most crucial step. Therefore, if you decide to get married, you should first choose the best wedding venues in Udaipur because it is entirely up to you as to the type of union you desire and the location of your nuptials.
And AMARGARH RESORT is one of such wedding resorts in Udaipur that can address all of your issues and provide you with the ideal setting. You can hold your nuptial ceremonies in opulence at the Amargarh Resort, a location in Udaipur, Rajasthan. The resort is tastefully decorated and supplied with all of the most cutting-edge amenities to provide you with the comfort you've always wanted and deserved.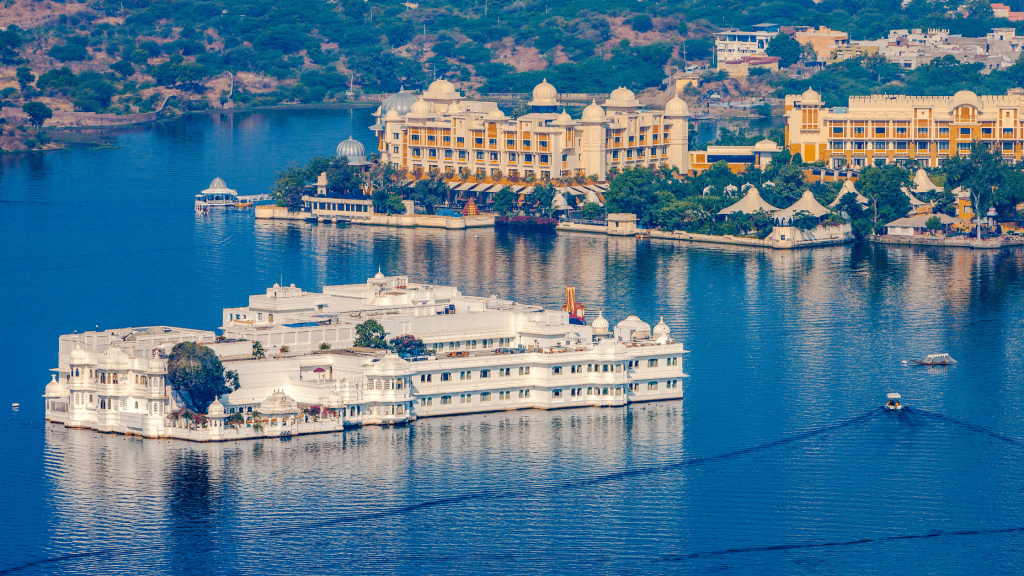 Taj Lake Palace is one of the most well-liked wedding venues in Udaipur for banquets. It was designed to provide a classy and superb banqueting facility to fulfil the diverse needs of their clients. They work hard to make every celebration, no matter how big or small, a spectacular success. They are perfect for holding wedding parties as they offer beautiful vistas and lavish hospitality. Their kindness and welcoming will add even more charm to your wedding.
This venue offers a higher level of appeal because of its remote location, away from the bustle of the metropolis. At the location, there is indoor space that can hold up to 500 people. Their catering guidelines are flexible. They also provide a lot of parking.
A location with a calm atmosphere and roomy interiors like Royal Retreat, Udaipur, is everything you need for parties of all sizes. On Badi Hawal Road in Udaipur, Rajasthan, you can find Royal Retreat.
This location is tastefully and artistically decorated, with remarkable interior design that appears both enticing and magnificent. This hotel is ideal for weddings and nuptials because of its vast green fields. The location has hosted numerous unforgettable events, and they uphold high standards to allow every client to enjoy their event without concern.
With its several party areas, Bhairavgarh Resort in Udaipur is one of the finest wedding venues in Udaipur to meet all of your wedding needs. It has a lawn area, a poolside, and a hall that can all be combined to host memorable celebrations or other types of events.
These portions can also be divided up separately to host each event in a separate party space. Multi-cuisine buffet counters that may be tailored to the client's demands will be set up at the venue. Due to the ample parking available on site, it may also offer valet services upon request. The location permits outside caterers. No royalty is necessary. Additionally, they permit outside decorators for the wedding day festivities.
10. Spectrum Resort & Spa
A destination within a destination is how people frequently describe Spectrum Resort Spa & Convention. A Resort constructed with grandeur and elegance, a city endowed with the gems of lakes and palaces, and an experience that combines to be a traveler's delight are all delights for any wedding occasion. It's a fantastic option in the list of wedding venues in Udaipur because of its big construction, stunning architecture, and comfortable interiors.
Choosing Your Wedding Venues In Udaipur
A wedding celebration that is genuinely memorable has a stunning backdrop thanks to the imposing forts and castles and the turquoise lakes. You can choose from a vast selection of wedding venues in Udaipur. Of course, picking the ideal wedding location can be challenging. With so many alternatives, choosing between a banquet hall, a farmhouse, a hotel, or a resort can be challenging. Of course, you would want a location that is ideal and within your price range. You can choose from any of the many wedding venue alternatives in Udaipur to have the wedding of your dreams.
You can also hire Wedclick for capturing your most precious & delightful moments at wedding.